read more about
Hamilton's Christmas Tree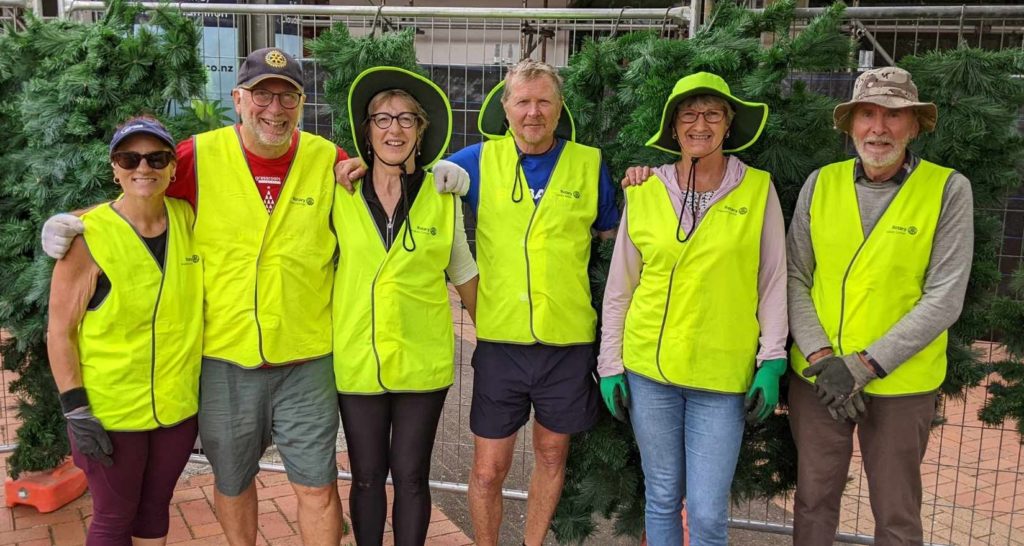 The collaborative efforts of the Rotary Club of Fairfield and the Rotary Club of Waikato Sunrise were able to support the successful assembly of the Hamilton Christmas tree in Garden Place.
From Monday 13th to Thursday 16th November, dedicated teams comprising of 11 members from Waikato Sunrise and 7 from Fairfield worked tirelessly to ensure the city's festive centrepiece took shape. 
Rotary Club members from both Fairfield and Waikato Sunrise demonstrated a strong sense of community and shared purpose throughout the project. The collaboration not only enhanced the efficiency of the construction but also exemplified the power of unity in achieving common goals. Dick Breukink, a member of Waikato Sunrise Rotary, expressed his satisfaction, noting that this year's construction "… was much faster than last year, where we struggled with wind and rain, and it took a lot longer."
The collaborative spirit of the volunteers was evident as they meticulously prepared the branches over the course of four days, contributing their time to create a iconic holiday spectacle. The volunteers' dedication and hard work did not go unnoticed, with gratitude extended to all who played a part in this festive undertaking.
In a demonstration of their commitment to community service, the funds raised from this project will be donated back into the community, extending the Rotary Club's positive impact beyond the festive season and making a lasting difference.
As the Hamilton Christmas tree stands tall in Garden Place, it serves not only as a symbol of holiday cheer but also as a testament to the strength of community collaboration. The Rotary Club of Fairfield and the Rotary Club of Waikato Sunrise have set a commendable example of how working together can bring joy and festive spirit to the heart of the city.