read more about
Balloons over waikato 2023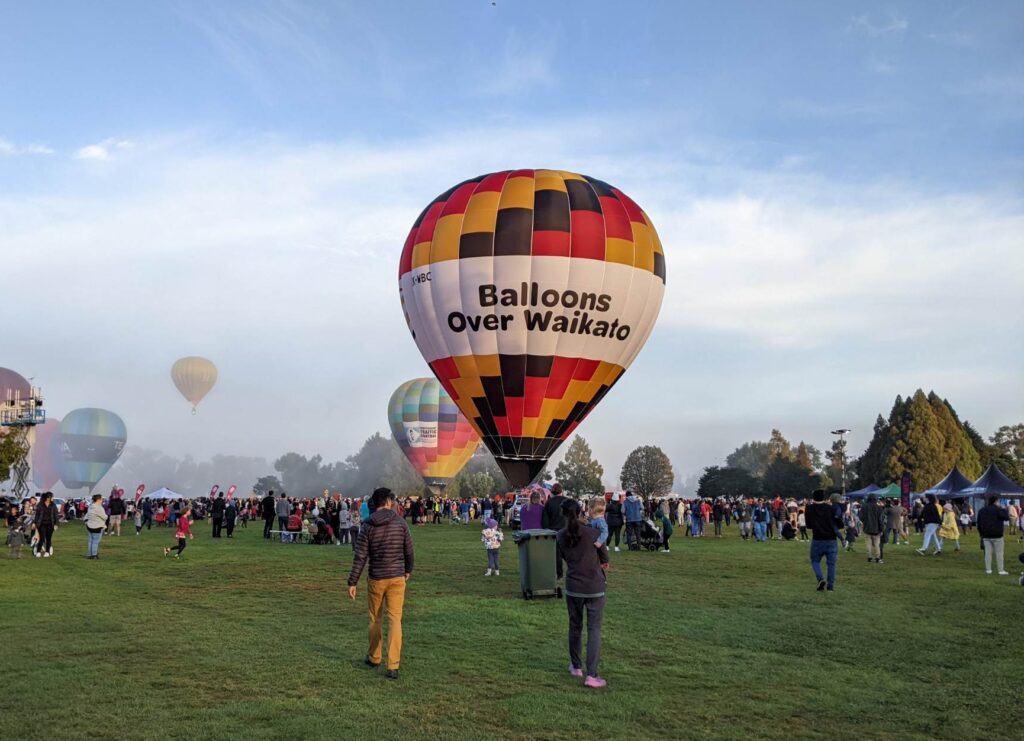 Flying high in Waikato's skies is an awe-inspiring five-day festival of ballooning, with the Rotary Club of Waikato Sunrise right at the heart of one of the region's most iconic events.
Every March, since 2017, the Waikato Sunrise club has been at the forefront of the annual Balloons over Waikato event, which draws hot air balloon enthusiasts from around the globe and New Zealand to the region, culminating in a spectacular Nightglow show.
"This stunning spectacle sees the tethered balloons glow to the rhythmic beat of a Beethoven symphony," says President of the Rotary Club of Waikato Sunrise Dick Breukink, "and it finishes with a grand firework finale.

The festival is free to the public, who come from around New Zealand to attend."
The club formed a partnership with Classic Events (the managers of the festival for the Balloons over Waikato Trust) and in the following seven years have distributed proceeds to numerous local charities.
"We have given approximately $100,000 to Hospice Waikato, Waikato Breast Cancer Research Trust, KidsCan, Life Education Trust, and this year's Waikato Westpac Rescue Helicopter," Dick says.
Weather conditions in 2020 meant the Nightglow had to be cancelled, while the whole festival was cancelled in 2022 due to New Zealand's COVID lockdown.
"Traditionally, the festival starts with ascensions each morning from Tuesday to Saturday at Hamilton Lake, where the balloons take off, sometimes in misty conditions over the lake, providing fantastic photo opportunities for the thousands of spectators," Dick says.
"We have hundreds of volunteers who work endless hours manning the information tent and leading crowds through a walk-through balloon.
"This balloon has retired from flying and members of the public can walk through it for a gold coin donation," Dick says. "It is a delight to see the children's faces as they run, skip, hide and play for as long as they like in the balloon."
During the festival events take place in the surrounding towns, while 2021's Nightglow attracted a record estimated crowd of 80,000 people. A change of venue in 2023 meant crowds were restricted to a family-friendly 25,000.
More than 220 volunteers from Rotary, schools and universities helped to make the event a success, Dick says.
"This event is all made possible by the amazing team of dedicated volunteers and their leaders that work so hard to make sure everyone is having a great time."